First of all, apologies for not sending out an issue last week. As a product manager, sometimes you a miss a deadline or two 😅.
However, to make up for that, I have made sure that this issue is extra fun and useful. Enjoy 😊
​
​
This week's highlights:
🎨 Design - Design Tools for Product Managers
🤖 Technology - Why Product Managers should care about API's
📂 Business - Building a Revenue Projection
❤️ Special - So, You Want To Become a Great Product Manager?
and more.
---
​
🎨 Design Tools for Product Managers​
How many times have you heard of tools like Figma, Sketch and so many more out there? While we constantly ensure that we are up to date with technology trends and skills, design sometimes ends up taking a back seat.
But as part of the role, when it comes to design, you'll need to at least be able to collaborate with designers on artifacts like flows, UX, wireframes, etc.
Being able to use design software to help translate your ideas from your head and into something understandable is a great skill for any Product Manager's toolkit.
In this post, the author shares a list of things they've learned from different companies and designers in designing user interfaces.
​
🤖 ​Why Product Managers should care about API's​
"What is an API?"
If you spend any time chatting with the development team (which I hope you do as a product manager), you are eventually going to hear the term API. API stands for "Application Programming Interface."
Let me share a great example from the post:
Here's a metaphor for an API: When you go out to eat, you look at a menu and decide what you want. But you don't go to the kitchen yourself. Instead, you ask a waiter or waitress. He or she then goes to the kitchen, places your order, and brings it to your table.
In essence, the website you are visiting is the kitchen, you are the user, and the waiter or waitress is the API.
REST stands for Representational State Transfer. While all APIs send data back and forth, a REST API is simply constructed to handle multiple formats of data.
As a product manager, it is important for one to understand how to utilize the appropriate API, build APIs for internal purposes and so much more.
​
📂 ​Building a Revenue Projection​
Committing to a revenue projection is one of the trickiest parts of product management. As a product manager, this task doesn't always make it your to-do list, but nonetheless can be a very powerful tool and motivation for getting a feature built.
Digging into the post, you will notice that a revenue projection contains much more than what initially comes to mind:
The price you're going to charge

How quickly salespeople will be selling it

How long sales cycles will be

What percentage will convert

What percentage will churn
The post does a great job of informing how one can work on a revenue projection when you're strapped for data.
​
❤️ So, You Want To Become a Great Product Manager?​​
In this interview by Nir Eyal, he had the pleasure of chatting with Jackie Bavaro about her latest book, Cracking the PM Career — a complete guide to the skills, frameworks, and practices you need to become a great product manager.
Jackie serves as the Head of Product Management at Asana and has held senior product manager jobs at Microsoft and Google.
As Jackie mentions in her post, there are three distinct phases in a product management career: shipping products, product strategy, and organizational excellence. And as we progress through our career, the responsibility can change drastically. You move from single feature mindset to opening up new market mindset.
This is a great interview for product managers trying to move forward in their career.
---
​
Book of the Week:
​Inspired by Marty Cagan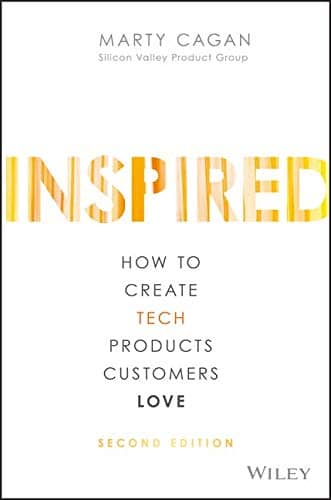 Why you should read - In INSPIRED, product management thought leader Marty Cagan provides a fantastic read on how to structure and staff a vibrant and successful product organization.
He talks about how to discover and deliver technology products that your customers will love—and that will work for your business.
The first edition of INSPIRED, published ten years ago, established itself as a go-to reference for technology product managers.
Definitely worth checking out.
---
​
Job Board:
Entry - ​Product Manager, Subscription - GoPro​​
Intermediate - Sr. Product Manager, Subscriptions Experience​ - Udemy​
Advanced - Research Product Manager - Amazon AI Labs​