We are in the second half of 2021. For quite a few of the product managers out there, this means you need to start getting ready for the next quarter roadmap. Don't worry. Below you will find some great content to help you start preparing.
This week's highlights:
🎨 Learnings from Headspace
📂 How A/B Testing at LinkedIn, Wealthfront and eBay Made Me a Better Manager
🧠 Does Music Help You Get Work Done
and more.
---
Making meditation accessible to the world is a hard and noble task. Headspace and a handful of other products have undertaken this challenge. From a product manager perspective, there is great value in learning from a product with that offers a wonderful user experience.
Headspace have spent a lot of time updating their design and user experience steadily. In this post, the author breaks down some key lessons from the product.
​
📂 How A/B Testing at LinkedIn, Wealthfront and eBay Made Me a Better Manager​
In this interview, Shmukler shows why he uses A/B testing as a management framework, illustrating how it works to not only accelerate decisions, but also empower the teams making them.
He outlines the framework's benefits and challenges, as well as how to implement and scale it at a startup.
The main benefits that Shmukler highlights include:
- Autonomy
- Lower Risk
- Employee Engagement
- Change actions, not styles
Any product or growth leader will learn from his data-driven approach to product and team management.
​
🧠 Does Music Help You Get Work Done​
When PMs are not in meetings, they are getting some serious sh*t done. Heads down in documentation, reviewing tickets, looking at design files, compiling competitive research, and so much more.
A lot of times, we usually plug in our headphones, turn on some tunes and get cranking. In the podcast, Chris talks about whether music is a stimulant to creativity or is it a buzz kill? Does it enhance the work experience or drown it out?
Listen in to find out.
---
​
Book of the Week:
​Contagious by Jonah Berger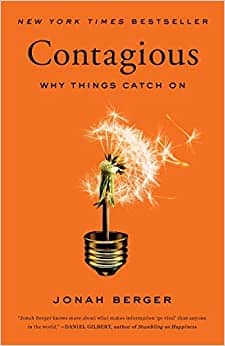 Why you should read - In Contagious, Berger reveals the secret science behind word-of-mouth and social transmission.
Discover how six basic principles drive all sorts of things to become contagious, from consumer products and policy initiatives to workplace rumors and YouTube videos.
This book provides a set of specific, actionable techniques to help information spread - for designing messages, advertisements, and information that people will share.
Definitely worth checking out.
---
​
Job Board:
Entry - ​Associate Product Manager, Dolby Laboratories, Inc​
Intermediate - Sr. Program Manager, Microsoft​
Advanced - Group Product Manager, Notifications & Personal Productivity, Slack​